Physical Therapy for Injured Workers in Laredo, TX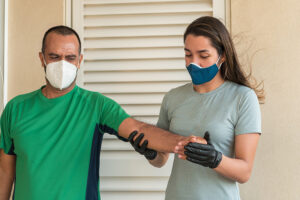 VitalMed Urgent Care is known and trusted throughout the Laredo, Texas, area as a reliable source of urgent care. We also offer a full slate of occupational health services, including onsite physical therapy at our McPherson Road location. Our licensed and experienced physical therapists take an active approach to healing. We help many injured employees return to work quickly, fully and safely.
We Treat Many Common Workplace Injuries
Although some people associate workplace injuries with physically demanding jobs, injuries can occur in virtually any profession. What's more, they can strike suddenly or develop gradually over time. For instance, the VitalMed team provides customized physical therapy to help our patients recover from work-related injuries caused by:
Overuse and repetitive strain
Overexertion and heavy lifting
Slips and falls
Collisions and direct trauma
Vehicle accidents
Regardless of the type of injury, we can help! We understand that each patient and each injury is different, and we take an individualized approach to physical therapy. After evaluating your unique circumstances, we will establish appropriate goals and help you achieve them.
What Does Physical Therapy Involve?
The experienced physical therapists at VitalMed use practical tools and evidence-based techniques to help our patients overcome orthopedic conditions, functional limitations and general pain. In a one-on-one format, each patient learns how to properly perform a customized regimen of stretches and exercises, which can be continued at home to help the patient gain strength, mobility, balance and coordination. We also offer therapeutic massage and hot/cold therapy.
With physical therapy, you can take control of your recovery and see your progress. If you'd like to learn more about the physical therapy services we offer at our urgent care center on McPherson Road in Laredo, TX, contact VitalMed Urgent Care today. Our goal is to help you feel confident in returning to your job duties as soon as possible.