Tetanus Shots for Your Employees in Laredo, TX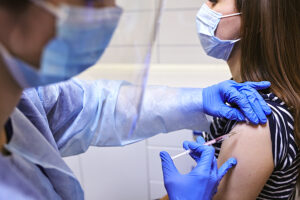 As an employer in the Laredo, Texas, area, you understand the importance of taking steps to protect the health of your employees. One way to do so is to ensure that they are up to date on their immunizations. As your occupational health partner, VitalMed Urgent Care can provide company-tailored occupational medicine services, including tetanus shots.
Everyone needs protection from tetanus, a serious bacterial infection that can cause painful muscle spasms in the jaw and neck. Tetanus bacteria can be found virtually everywhere, particularly in dust, soil, and manure. Usually, a tetanus infection occurs when tetanus spores enter the body through a break in the skin, such as a puncture wound or burn. Although there is no cure for tetanus, the infection can be prevented with a vaccine.
Vaccines Aren't Just for Children
Because children are especially vulnerable to infection, most vaccines are administered before age 6, although others are recommended during adolescent or adult years. Additionally, to ensure the ongoing effectiveness of certain vaccines, such as tetanus, booster shots are recommended throughout life.
VitalMed can provide tetanus shots for your employees of all ages who have not received a tetanus booster within the last 10 years. Additionally, we can provide a series of three tetanus shots to your employees who did not receive an initial tetanus vaccine during childhood.
By educating your employees about the importance of immunizations—and making tetanus shots readily available to them—you can make significant strides in improving their overall health and productivity. Please contact or visit VitalMed Urgent Care in Laredo, TX, if you'd like to learn more about our occupational health services. Our team is here to protect the health of your employees and ultimately help your business thrive.