Reliable Urine Drug Screening in Laredo, TX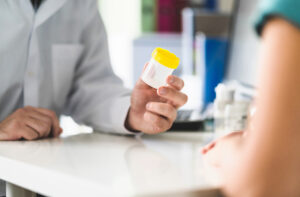 Before making a final hiring decision, many employers require job candidates to undergo urine drug screening. This is practical planning because studies consistently show that employees who use illicit drugs tend to be more careless and inattentive, which increases the likelihood of injury-causing accidents in the workplace. Drug use also leads to employee turnover and absenteeism, both of which can negatively affect a company's bottom line.
If you're an employer in Laredo, Texas, you should know that VitalMed Urgent Care offers convenient urine drug screening as well as a full slate of other occupational health services to keep your employees safe and help your business thrive. By performing pre-employment drug testing, our licensed medical providers can help you feel confident that you are making a good investment in your new hires.
When Else Is Urine Drug Testing Useful?
In addition to helping you make fully informed hiring decisions, VitalMed's urine drug screening services can provide valuable information that you can use to:
Investigate a workplace accident
Create a return-to-duty timeline for a workers' compensation claim
Follow up on a reasonable suspicion
Deter workplace drug use by testing your employees at random
Urine drug testing can detect drug use by identifying certain residues that remain in the body after the effects of the drugs have worn off. Specifically, urinalysis can detect many commonly abused substances, such as alcohol, amphetamines, cocaine, marijuana and opiates. At VitalMed, we follow strict guidelines for urine drug testing, ensuring a high level of accuracy while minimizing the risk of tampering.
Unlike many traditional occupational health centers, VitalMed does not require appointments for urine drug screening. Instead, our services are available on a walk-in basis. And because we have a state-of-the-art lab on site, we do not have to send the samples we collect to an off-site facility for processing, which means we can expedite the process by avoiding unnecessary delays.
To learn more about our urine drug screening and other occupational health services, contact VitalMed Urgent Care in Laredo, TX, today.