Insect Stings Treated in Laredo, TX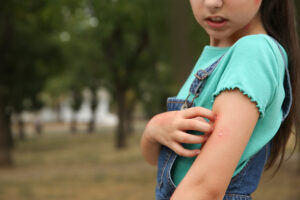 Nothing can spoil an outdoor adventure quite like a painful bug bite. Even so, most insect stings can be safely and easily treated at home. Just be sure to watch for signs of a severe allergic reaction—such as hives, a weak pulse, difficulty breathing, and a swollen tongue or throat—and seek emergency medical attention if necessary. Also, if you have a known allergy to insect stings, use your epinephrine injector immediately after you've been stung.
The team at VitalMed Urgent Care in Laredo, Texas, offers the following helpful information about insect stings:
Bee & Wasp Stings – What's the Difference?
The most common types of insect stings are bee and wasp stings, which are similar in many ways. Both can cause an itchy red welt to develop at the puncture site where the insect injected its venom, along with a painful burning sensation and minor swelling. However, when a bee stings, it will leave behind its barbed stinger in your skin, and the bee will die. On the other hand, a wasp is capable of stinging multiple times in the same place—and will usually do so until it is shooed away.
If you've been stung by a bee, you'll need to remove the stinger and the attached venom sac. Use your fingernail or a credit card to gently scrape it away. Don't use tweezers, as they can push more venom into the sting site.
To treat both types of insect stings, thoroughly wash the sting site with soap and water. Then, apply a cold pack to ease the pain and swelling, which should subside within a few hours. If needed, you can also take an over-the-counter nonsteroidal anti-inflammatory drug (NSAID) or an antihistamine to further reduce the pain and swelling, and apply hydrocortisone cream to relieve the itching.
We're Here to Help
If you need help removing a bee stinger or would like to receive professional medical attention for non-emergency insect sting symptoms, turn to VitalMed Urgent Care. Our walk-in clinics in Laredo, TX, are open every day during extended hours.