Hepatitis B Shots in Laredo, TX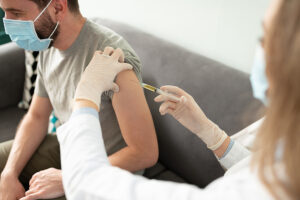 Hepatitis B is a serious liver infection caused by the hepatitis B virus (HBV), which is easily spread through contact with the blood or other bodily fluids of an infected person. Everyone is at risk for HBV, but the infection is preventable with a vaccine. Typically, the vaccination process involves three hepatitis B shots administered over a six-month period.
Who Should Be Vaccinated & When?
The Centers for Disease Prevention and Control (CDC) recommends that infants receive their first hepatitis B shot at birth and then complete the vaccination series by the age of six months. The CDC also recommends hepatitis B shots for children who did not receive the vaccination at birth, as well as for unvaccinated adults.
Where Can You Receive the HBV Vaccine in Laredo?
The experienced staff at VitalMed Urgent Care can administer hepatitis B shots to patients six months and older. To start the vaccination process, simply stop by our walk-in clinic in Laredo, Texas, whenever it's most convenient for you. You can also use our online registration system to check in ahead of time.
Hepatitis B shots are generally administered in a three-step series:
The first shot can be given at any time.
The second shot is given at least one month after the first shot.
The third shot is given six months after the first shot.
If you miss your second or third hepatitis B shots, you don't have to restart the series. Instead, you should simply resume the process as soon as possible. According to the CDC, if you are ill, you should wait until you recover before receiving a vaccination.
The HBV vaccine is considered to be one of the safest and most effective vaccinations available today. The side effects, if any, are typically mild, such as swelling, redness, and tenderness at the injection site in the deltoid muscle of the upper arm. Hepatitis B shots do not contain a live virus, and it is impossible to contract HBV from the vaccine.
If you have questions about hepatitis B shots or would like to vaccinated, contact or visit VitalMed Urgent Care in Laredo, TX, today.