Flu Shots for Your Employees in Laredo, TX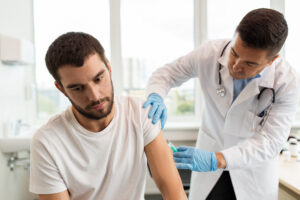 Each flu season, most businesses see at least some decline in productivity as employees call out sick with influenza. And the COVID-19 pandemic has added a new wrinkle to an already challenging situation. Because the novel coronavirus and the flu share many symptoms, such as a low-grade fever and persistent coughing, employees who have flu symptoms may need to be tested to rule out COVID-19.
As an employer, you'll want to take steps to minimize the disruptive impact of influenza and COVID-19 on your business. According to experts, the No. 1 way to prevent flu illness is to receive an annual flu shot. What's more, a flu shot can help prevent simultaneous influenza and COVID-19 infections, which is important because co-infection can increase the severity of COVID-19 symptoms. If you're an employer in Laredo, Texas, the occupational health specialists at VitalMed Urgent Care can help you promote a healthy workforce with flu shots.
Why Consider an Employee Flu Vaccine Program?
One effective way to support the health and wellness of your employees is to encourage them to receive an annual flu shot. Consider that:
Up to 20% of the U.S. population gets the flu each year
A healthy adult can spread the influenza virus starting one day before symptoms develop and up to seven days afterward
Most health insurance companies fully cover the cost of flu shots
In the face of the COVID-19 pandemic, flu shots are more important than ever. To make it as easy as possible for your employees to take advantage of this effective preventive measure, provide them with information on VitalMed's two convenient locations in Laredo, TX, where we offer flu shots on a walk-in basis. Once your employees know how easy it is to get vaccinated, they will be more likely to do so. And perhaps most importantly, encourage your employees to stay home when they aren't feeling well. Just one sick employee in the office can lead to a landslide of infections and missed time from work!