Walk-In Physicals Performed in Laredo, TX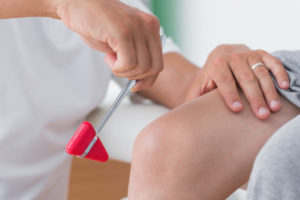 Do you or your child need a physical examination before starting a new school year, sport, camp, job or venture? If so, as you look over the required paperwork, you might feel a bit overwhelmed. Don't sweat it! Instead, come to VitalMed Urgent Care. We offer physicals—in addition to a full spectrum of other non-emergency health care services—on a walk-in basis at our urgent care centers in Laredo, Texas.
At VitalMed, we know you're probably busy preparing for an exciting new chapter. But it's important to take the time for a physical exam, which is the best way to ensure that you are ready to safely and fully participate in everything you have planned. We'll help you get this detail taken care of quickly so you can focus on moving forward in the best possible health.
What Do Physicals Involve?
School, sports, camp, employment and other "special purpose" physicals—which are also known as administrative physicals—are a bit different than annual wellness physicals. Designed to provide a broad overview of your general health, this type of exam is intended to confirm that you are healthy enough to safely participate in a specific activity.
With that said, all physical exams include several key elements. To evaluate your health, a medical provider at VitalMed will typically:
Review your medical history
Measure your vital signs, including your body temperature, pulse rate, respiration rate and blood pressure
Listen to your heart, lungs and gastrointestinal tract with a stethoscope
Examine your eyes, ears, nose and throat with a special lighted medical instrument
Touch certain areas of your body, such as your neck and abdomen, to evaluate the size and position of various lymph nodes and organs
Based on the results of your physical, your provider at VitalMed may order a diagnostic test, such as a urinalysis, X-ray or blood work, which we can perform on site.
Don't Wait for an Appointment
Sometimes, it can be challenging to secure an appointment with a busy primary care physician or pediatrician, especially during back-to-school season and other hectic times. But the team at VitalMed Urgent Care is always available to perform physicals. We never require appointments, but you are welcome—and encouraged—to use our convenient online check-in system. Why not have your required physical exam completed today?