An Urgent Care Facility Providing Vaccines in the Laredo, TX, Area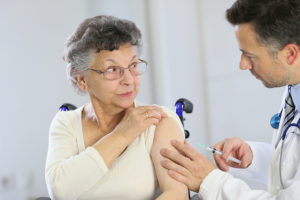 The next time you need a vaccine, visit VitalMed Urgent Care. Our walk-in clinics serve adults and children age six months and older in the Laredo, Texas, area, and we strive to provide individualized care in a pleasant, welcoming atmosphere. We know that you don't want to sit in a waiting room for hours when all you need is a simple immunization, and that's why we have streamlined our process to offer prompt service that allows you to get in, out and on your way quickly.
Our urgent care center offers the following vaccines for our patients:
Flu Shots
Bring the whole family to VitalMed for flu shots. The Centers for Disease Control and Prevention (CDC) recommends individuals receive a flu shot every year before the start of flu season, and it is particularly important for pregnant women, adults over age 65 and others who have an increased risk of experiencing flu complications, such as pneumonia.
Tetanus Shots
Tetanus shots, also known as DTaP or Tdap vaccinations, are recommended by the CDC for babies and children on a regular schedule. Here at VitalMed, we can offer tetanus shots to children starting at six months old as well as adults.
Also, the CDC also recommends that adults receive a tetanus booster every 10 years, as the vaccine does not provide lifelong immunity. If it's been a decade or longer since your last tetanus vaccine, we can administer the immunization quickly and effectively.
Tuberculosis (TB) SHots
Children should receive the TB vaccine if they live with someone who has tuberculosis and cannot take antibiotics or whose infection is a strain that is highly resistant to antibiotics. We offer this simple immunization in our clinic and can give it to babies starting at six months of age.
Hepatitis B Shots
The hepatitis B vaccine is generally given in a series of three shots. We can begin the series for children aged six months and older and for children and young adults under age 19. Unvaccinated adults should also receive hepatitis B shots if they have certain risk factors, such as having a sexually transmitted disease, traveling to a region with high rates of hepatitis B, working in a correctional facility, and more.
Get Well, Be Well
The team at VitalMed Urgent Care is here for you when you need us most. We offer our vaccines on a walk-in basis at our clinics in Laredo, TX, and we are open seven days a week (excluding holidays) for your convenience. Check in online to expedite your visit!