Physical Therapy Services in Laredo, TX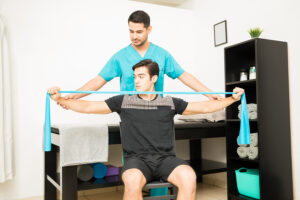 The outstanding team of medical professionals at VitalMed Urgent Care includes licensed physical therapists who excel at taking an active approach to promoting healing. If you visit our urgent care center at 5711 McPherson Road in Laredo, Texas, and your provider refers you to physical therapy, you don't have to make a separate trip to an outside facility. For your convenience, we're pleased to offer physical therapy services on site.
How Can You Benefit From Physical Therapy?
If you're recovering from an injury or surgery, the affected area of your body may still be painful or difficult to move. Although pain relievers and anti-inflammatory medications can be helpful—to a certain extent—physical therapy is often the best way to ensure a gradual and safe return to full function.
At VitalMed, we use evidence-based physical therapy techniques and practical tools to address a full range of musculoskeletal conditions, general pain, and functional limitations. With one-on-one guidance from an experienced physical therapist at VitalMed, you will learn how to correctly perform a customized regimen of stretches and exercises that you can continue to do at home. Your personalized physical therapy program may also be complemented by hot/cold therapy or therapeutic massage to further help you regain strength, endurance, and range of motion.
The Key to Your Fast & Complete Recovery
Physical therapy can help you take control of your recovery and monitor your progress. If you'd like to learn more about the physical therapy services we offer at our urgent care center on McPherson Road in Laredo, TX, contact VitalMed Urgent Care today. Our goal is to help you get back to your daily activities as quickly as possible.