Minor Burn Treatment in Laredo, TX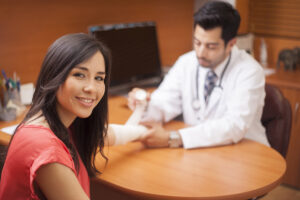 A burn is a common injury that can occur when the skin is exposed to sunlight, open flames, hot liquids, friction, freezing temperatures, electricity or certain chemicals. Almost all burns are painful, but not all require emergency treatment. It's important to be able to quickly judge the severity of a burn so that you get appropriate medical attention when necessary.
To help you decide when and where to seek burn treatment, the experienced medical team at VitalMed Urgent Care in Laredo, Texas, offers the following information:
Third-Degree Burns
A third-degree burn is a medical emergency that warrants immediate treatment at the nearest hospital ER. The affected skin may appear blackened and charred or whitened and leathery. In addition to destroying the outer layer of skin (epidermis), this "full-thickness" injury damages the middle layer of skin (dermis) and penetrates the subcutaneous tissues (hypodermis). The damage may extend to the underlying fat, muscles, bones and nerves. If nerve endings are damaged, a numbing effect may occur; otherwise, the burn will likely be extremely painful.
Second-Degree Burns
A second-degree burn involves damage that extends through the epidermis and into the dermis. The affected skin may be deeply reddened and swollen. If the skin blisters or the burn is very painful, it is important to seek professional burn treatment. After evaluating a second-degree burn, a medical provider can recommend an appropriate treatment plan, which may include pain management and an antibiotic ointment to help prevent infection. Complete healing should occur within a few weeks.
First-Degree Burns
The least severe type of burn, a first-degree burn affects only the epidermis, causing it to become reddened, swollen and tender. Typically, a first-degree burn will heal within approximately one week and can be treated at home in the meantime. Home burn care may include applying cool compresses or aloe vera gel to the affected skin and taking an over-the-counter pain reliever, if necessary. As the skin heals, it may flake or peel.
Uncertain About the Severity of a Burn? See a Medical Professional
Burns are dynamic injuries, which means lingering heat may continue to penetrate and damage the skin and underlying tissues. If you are unsure about the severity of a burn, you should seek the advice of a physician right away.
At VitalMed Urgent Care in Laredo, TX, we will promptly evaluate your burn and advise you on the appropriate next steps. Contact us today to learn more about our comprehensive urgent care services, including minor burn treatment.