Diarrhea Treatment in Laredo, TX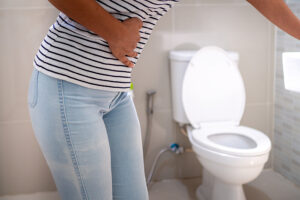 Diarrhea occurs when you pass loose, watery stools three or more times in one day. Other symptoms include cramps, bloating, and frequent bowel movements. While unpleasant, diarrhea is usually not serious and typically resolves without treatment in 24-48 hours. The most common cause is a viral bowel infection (viral gastroenteritis). Other possible causes include a bacterial infection, a food allergy or intolerance, stress, and certain medications.
How to Cope With Diarrhea
If you need help coping with a bout of diarrhea, the experienced team of medical providers at VitalMed Urgent Care in Laredo, Texas, can suggest an effective treatment strategy. For instance, some common home remedies include:
Drinking plenty of water and other clear fluids, such as chicken broth and fruit juice without pulp (it is important to stay well-hydrated to prevent dehydration, which is a potentially serious side effect of diarrhea)
Eating bland, low-fiber foods, such as bananas, rice, applesauce, and toast (the "BRAT" diet)
Avoiding common food-based triggers, such as caffeine, dairy products, beans, broccoli, cabbage, spices, fats, sugar, and sugar substitutes
Washing your hands thoroughly and often
Taking an over-the-counter antidiarrheal medication, such as bismuth subsalicylate or loperamide, according to the instructions on the label
When Is Diarrhea Serious?
If you have diarrhea for more than 48 hours, come to VitalMed right away. A prolonged episode of diarrhea can lead to severe dehydration as your body loses more fluid than it takes in. As a result, your body may not have sufficient fluid to function properly. Additionally, your diarrhea may be related to a bacterial infection that requires antibiotic treatment or a more serious underlying condition, such as irritable bowel syndrome, ulcerative colitis, or Crohn's disease.
At VitalMed Urgent Care in Laredo, TX, we can evaluate your health condition and recommend appropriate diarrhea treatment. Our walk-in clinic is open every day with extended hours, including weekends and most holidays, and we pride ourselves on our prompt service and short wait times. You can use our online registration system to check in ahead of time or simply stop by whenever it's most convenient for you.