Flu Treatment & Flu Shots in Laredo, TX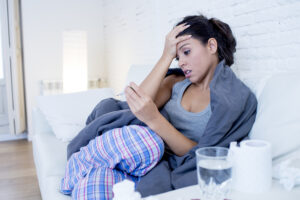 Do you need flu treatment? You might if you are experiencing telltale influenza symptoms, such as fever, body aches, and chills, and perhaps a sore throat, persistent cough, and stuffy nose. The flu can make you feel downright miserable, but you don't have to try to power through it on your own. The experienced and compassionate team of medical professionals at VitalMed Urgent Care is available every day to provide prompt and effective flu treatment if you need it.
What Does Flu Treatment Involve?
Influenza is a viral infection that generally must run its course, which usually takes about 7 to 10 days. In the meantime, VitalMed can help you feel better. For instance, if we confirm that you have the flu based on an assessment of your symptoms, we may suggest an over-the-counter fever reducer, pain reliever, cough suppressant, or decongestant. Unlike bacterial viruses, such as strep throat and urinary tract infections, the influenza virus does not respond to antibiotic treatment.
While anyone can develop flu complications, such as bronchitis and pneumonia, you may be at heightened risk if you are:
65 or older
Pregnant
Immunocompromised
If so, we may prescribe an antiviral medication to slow the spread of the influenza infection throughout your body and help your immune system fight it more effectively.
Whether or not your flu treatment involves medication, you should get plenty of rest and stay well-hydrated, both of which can help your body recover faster. Because influenza is a contagious respiratory illness that is easily spread from person to person, you should also stay at home and avoid close contact with others for a few days.
Receive Prompt & Effective Flu Treatment
At VitalMed Urgent Care in Laredo TX, you always have convenient access to flu treatment and a wide range of other urgent care services, which means you don't have to live in misery while you try to beat influenza. Stop by one of our urgent care centers for flu treatment today. We also offer flu shots. According to the Centers for Disease Control and Prevention (CDC), the best way to prevent influenza is to get an annual flu vaccine.