Skin Rash Treatment in Laredo, TX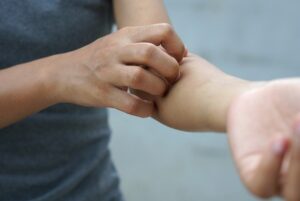 Skin rashes are common and can develop for a variety of reasons. Many rashes are itchy or painful, some are contagious and a few are related to an underlying medical issue. If you have an unusual skin rash, your best strategy is to see a health care provider who can determine the cause and help you start the healing process as soon as possible.
With that said, unless your skin irritation is accompanied by life-threatening symptoms such as difficulty breathing, an ER visit is most likely unnecessary. Instead, you can turn to the caring medical professionals at VitalMed Urgent Care for prompt and effective skin rash treatment in Laredo, Texas.
Types of Rashes We Diagnose & Treat
At VitalMed, we diagnose and treat many skin rashes, including:
Insect stings and bites – Venom from certain stinging and biting insects, such as ticks, chiggers, mosquitoes, horseflies and bed bugs, can cause an allergic skin reaction that produces pain, itching, redness or swelling in the area around the sting or bite.
Heat rash – Common in hot, humid weather, heat rash develops when blocked sweat glands trap perspiration under the skin, causing redness, itchiness and tiny blisters to form in skin folds.
Hives – Caused by the body's immune system response to an allergen, hives are itchy, red welts that appear suddenly on the skin.
Eczema – Also known as atopic dermatitis, eczema is a chronic inflammatory condition that causes the skin to become dry, scaly and itchy.
Psoriasis – A noncontagious autoimmune condition, psoriasis accelerates the growth cycle of skin cells, causing the skin to become red, scaly and thickened.
Skin reactions to certain plants – Contact with urushiol oil, which is found on the leaves of poison ivy, poison oak and poison sumac, can cause an itchy skin rash with large, raised bumps or blisters.
Fungal rashes – A fungal infection such as athlete's foot, jock itch or ringworm can cause a pimple-like skin rash that itches or burns.
After determining the cause of your skin rash, we can suggest an appropriate treatment plan to help clear it up. Minor skin irritations can usually be treated with a topical ointment, such as hydrocortisone cream or calamine lotion, while allergic skin reactions may require an oral antihistamine.
Don't suffer from a skin rash! Come to VitalMed Urgent Care for treatment today. We have two convenient locations in Laredo, TX, and we do not require appointments. To save time, you can get in line before you leave home.