Seasonal Allergy Treatment—Find Effective Relief in Laredo, TX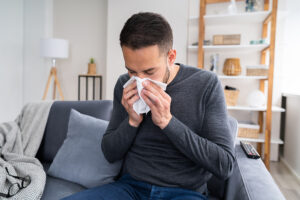 If you need fast relief from stubborn seasonal allergies, consider visiting VitalMed Urgent Care. Our fully equipped, state-of-the-art immediate care centers in Laredo, Texas, cater to children, adults and seniors. Whether you need treatment for seasonal allergy symptoms or another non-life-threatening ailment, we are your first choice for prompt medical care. And we do not require appointments—just walk right in!
What Causes Seasonal Allergies?
Nearly 8% of Americans experience seasonal allergies, which are triggered by irritants such as airborne pollen, a powdery substance produced by many trees, as well as weeds and grasses, particularly in the springtime. Pollen is harmless, but some people experience an allergic reaction to it. Specifically, the body's immune system misidentifies the pollen as a dangerous invader and attempts to attack and destroy it.
Seasonal allergies often cause cold-like symptoms, such as:
Frequent sneezing
Persistent coughing
Nasal congestion or a runny nose
Itchy, watery eyes
Skin rashes and hives
Seasonal Allergy Symptoms Can Vary in Severity
Unlike common cold symptoms, which typically resolve within a few days, allergy symptoms can linger for a week or longer. Additionally, a severe allergic reaction can be life-threatening and require emergency medical attention. For instance, if your seasonal allergy symptoms include lightheadedness, shortness of breath, wheezing, vomiting or loss of consciousness, you should immediately seek treatment at the nearest ER.
For non-emergency allergy symptoms, VitalMed Urgent Care is an excellent place to turn for treatment. To help you feel better right away, we may suggest a nasal saline rinse, antihistamine, decongestant or nasal steroid spray. Additionally, we might suggest a series of allergy shots, which can help reduce your immune system's reaction to a specific allergen over time.
Our urgent care centers in Laredo, TX, are open every day, including weekends and most holidays. If you'd like to learn more about our approach to seasonal allergy treatment, give us a call or stop by today.