Sore Throat Treatment in Laredo, TX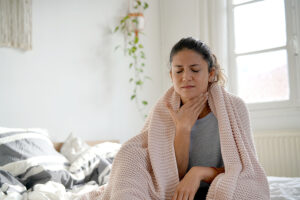 Did you wake up this morning with a sore throat? Most likely, the culprit is a viral infection, such as the common cold or flu. If so, you'll probably feel better if you rest, drink plenty of water and take an over-the-counter pain reliever or sore throat remedy.
Your throat could also be hurting for a reason unrelated to illness, such as overusing your voice, sleeping with your mouth open or spending time in a smoky room. In any of these scenarios, your throat pain and irritation should go away on its own within a day or two.
Do You Have Strep Throat?
Another possibility—which is less common but more serious—is strep throat, a bacterial infection caused by group A Streptococcus. A strep infection may require prescription antibiotic treatment to help prevent complications, such as kidney inflammation. Therefore, you should see a doctor if your sore throat is severe, lasts longer than a few days or is accompanied by fever.
If you need help finding relief from your sore throat, turn to VitalMed Urgent Care. Our experienced and caring team has been serving individuals, families, employers and employees in the Laredo, Texas, community since 2015, and we're pleased to provide effective sore throat treatment and other non-emergency urgent care services on a walk-in basis.
The team at VitalMed can quickly determine if you have a strep infection by performing a rapid strep test, which involves a simple throat swab that is immediately processed in our on-site lab. Available within minutes, the results of your rapid strep test will help your provider determine if you need antibiotic treatment.
Sore Throat Remedies
Regardless of the cause of your sore throat, you will likely feel better if you:
Stay home and get plenty of sleep – You'll recover faster if you rest your body and your voice.
Gargle with saltwater – Dissolve ¼ teaspoon of table salt in a cup of warm water, then take a big sip, tilt your head back, gargle for 30 seconds, swish the water around your mouth and spit it out.
Stay well-hydrated – To help keep your throat moist and prevent fever-related dehydration, drink warm liquids such as caffeine-free tea with honey and clear broth.
Add moisture to the air around you – Dry air can aggravate your sore throat. Use a cool-air humidifier to counteract it, and also be sure to avoid smoke and cleaning product fumes.
If you're concerned about your sore throat, stop by one of our urgent care centers in Laredo, TX, whenever it's most convenient for you—we're open every day during extended hours. For more information, contact VitalMed Urgent Care.