Stomachache Treatment in Laredo, TX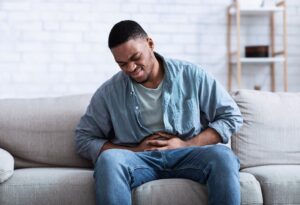 A stomachache can have many causes, some of which are potentially serious. For instance, severe stomach pain could be a sign of appendicitis, gallstones or kidney stones, which require emergency medical treatment. A stomachache accompanied by chest tightness or difficulty breathing could signal a heart attack that warrants an immediate visit to the closest ER.
On the other hand, a relatively mild stomachache can usually be safely treated at an urgent care center. If your stomach is bothering you, come to VitalMed Urgent Care in Laredo, Texas. We'll find out what's going on and help you feel better fast.
Why Does Your Stomach Hurt?
Just about everyone experiences abdominal pain from time to time. In many cases, the discomfort is related to food intake or infection and improves on its own within a few hours. If yours doesn't, it's best to seek medical advice. Some possible causes include:
Gas – During the digestive process, gas can accumulate in your intestines and cause bloating, pressure and an uncomfortable feeling of fullness in your stomach.
Indigestion (acid reflux) – If you eat acidic foods such as citrus fruits and tomatoes, excess acid can build up and irritate your stomach, causing pain and burning sensations that radiate upward through your throat and mouth.
A viral infection – Also known as gastroenteritis, a viral "stomach bug" can cause nausea, vomiting and diarrhea in addition to a stomachache.
A food intolerance – You may experience a stomachache, heartburn or vomiting if your body has difficulties digesting a certain food substance, such as lactose or gluten.
Irritable bowel syndrome – Also known as a spastic colon, IBS is a chronic digestive disorder that can cause abdominal pain, bloating, gas, diarrhea or constipation.
A muscle strain – A pulled abdominal muscle can make your stomach feel tender or sore, especially during movement.
Menstrual cramps – Many women experience a dull or throbbing stomachache just before or during their menstrual period.
If you need help dealing with a mild to moderate stomachache, the experienced medical team at VitalMed can help. After we determine what is ailing you, we'll suggest an appropriate treatment plan, which may include bed rest, heat applications, dietary changes and an antacid or pain-relieving medication. With VitalMed, you can feel confident that you will receive the proper care for your condition.
If you need stomachache treatment, come to VitalMed Urgent Care in Laredo, TX, right away. We're here every day, and no appointment is necessary.